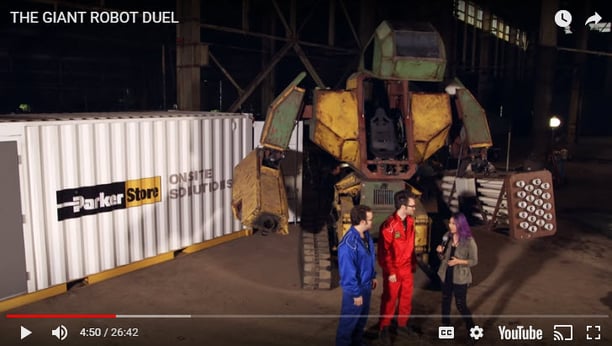 In 2011 DropBox Inc. began working with Parker Hannifin. Since then we have helped engineer, design, and build more than 50 shipping container modifications for Parker Hannifin, Parker Store, and Parker Onsite Solutions in both the United States and Canada. While working with Parker Hannifin, DropBox Inc. has built battery/inverter storage solutions for the 2014 Winter Olympics in Sochi, Russia as well as a number of portable hose repair and work stations that are in use at major industrial and commercial construction projects around the U.S. and Canada.
More recently, Parker Hannifin became a sponsor for an online YouTube Series, Giant Robot Duel. Founded by MegaBots, Inc., Giant Robot Duel uses cutting-edge robotics and engineering technology to create the giant fighting robots only thought of before in video games and science fiction. These piloted robots fight in larger than life arenas to determine which team has built the best robot. The robots stand 15' tall and are designed to be internally piloted by a person. The winner of the robot duel is determined by 1 of 3 conclusions: 1) the robot gets knocked out/down, 2) the robot gets disabled, or 3) the pilot surrenders for any reason.
As the battle ensues, armor panels are sheared, smoke and sparks fly, massive robotic limbs get torn off, and robots crumple to the ground until only the winner is left standing. It really is something to see.
In the Japan vs. USA video, one of the Parker Store Onsite hose repair stations built by DropBox Inc. is on full display. As a sponsor of the video series, the on-set shipping container modification serves at least two purposes – a very nice display of the Parker Store Onsite logo as well as a hydraulic hose repair station for the giant robots.
For more information on DropBox Inc. and all of our ISO shipping container modifications CONTACT US HERE or call us toll free at 888.388.7768.