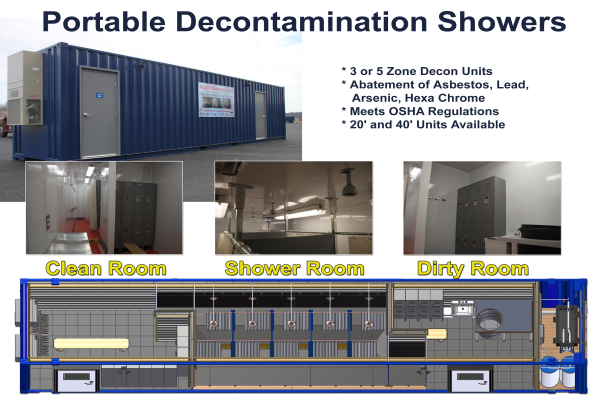 The Decontamination Station or portable decontamination shower units offered by DropBox Inc. are designed for the most rugged, remote projects and built to withstand the wear and tear that come with them. With its heavy duty construction and quick connection to fresh water, waste water, and electric, the Decontamination Station is the most dependable, portable decon shower on the market.
Using both 40' and 20' designs, DropBox Inc. has created the total solution for abatement professionals to stay safe and follow regulations. The typical setup for the decontamination station is customizable, but the standard units will have an entrance into the "Clean Room" where lockers are located for employees to store street clothes and other items. The room located in the middle is the "Shower Room," and the room on the other end of the unit is considered the "Dirty or Equipment Room" where employees can remove contaminated PPE, clean out respirators in the sinks, and store fresh PPE for the next day of work.
Over the years, DropBox Inc. has developed a number of different designs for these portable decontamination showers. From 40' shipping containers with 8 shower stalls to 20' containers with 2 or fewer showers, there are many floor plans to choose from. Whether your Decontamination Station is needed for a larger site or a smaller site, DropBox Inc. is ready to help you Reinvent the Box™.
For more information on DropBox Inc., the Decontamination Station, and all of the other ISO shipping container modifications that we offer, CONTACT US HERE or call 740.532.7822 for more information.